Washing Machine Removal Sydney
Aussie Junk helps you get rid of your unwanted washing machine in Sydney 24/7!
Do you have broken or old washing machines needing a removal job? Get rid of them with the professional help of Aussie Junk!
We provide a fast and friendly washing machine removal with no hidden charges.
Our company offers washing machine removal across Sydney, allowing you to skip all the daunting tasks that come with the job. We can take all sizes of such types of appliances.
If you're planning to upgrade your washing machine with a new model, you can always rely on our expert team for the removal of your old and dusty washing machine.
We know the right techniques for dismantling a washing machine. You can be confident that we do the job safely, quickly, and efficiently.
Our professional removalists handle all washing machine removal responsibly and carefully. We are your best answer for the proper recycling and disposal of any washing machine in Sydney.
Same-Day Washing Machine Removal Sydney
We understand that you value time. You typically don't want to wait for hours or days to get your unwanted washing machines removed.
That's why we at Aussie Junk ensure to deliver same-day washing machine removal for your convenience. Our team knows it takes a lot of work to remove and dispose of broken appliances.
If you need our professional assistance, we are only a call away in Sydney. With our same-day washing machine removal, you can eliminate unwanted appliances without trouble.
Our expert removalists can come to your place the same day you contact us for a washing machine removal. We bring with us the proper tools and equipment to perform high-quality service that reaches your complete satisfaction.
How To Dispose Washing Machines?
Major home appliances including refrigerators, washing machines, dryers, air conditioners, and other white goods can be disposed of in a number of ways.
You can dispose of white goods by the following:
Sell your old washing machine to your local thrift shop
Donate the white goods to your local charity centres
Give the laundry machine away on freecycle
Moreover, we want to remind you that you can do the following or as long as the home appliance is in good working condition.
Aside from that, you'll have to put in the effort of moving and loading the large item into your vehicle. And that includes unloading the white goods to your preferred destination.
But, if the washing machine is no longer functional, check with your local council to see if they hold white goods clean-up days. Some local councils charge a fee for this service, while others provide it for free. 
They can also tell you whether your local waste disposal facility accepts white goods for recycling. However, if you're not up for the necessary steps, simply call Aussie Junk for washing machine removal and disposal 24/7.
Is it Possible to Donate An Old But Still Functional Washing Machine?
Yes. As previously stated, you can donate your old washing machine as long as it is still in working order.  However, we want to remind you that you must move, load, and unload the white goods to your destination.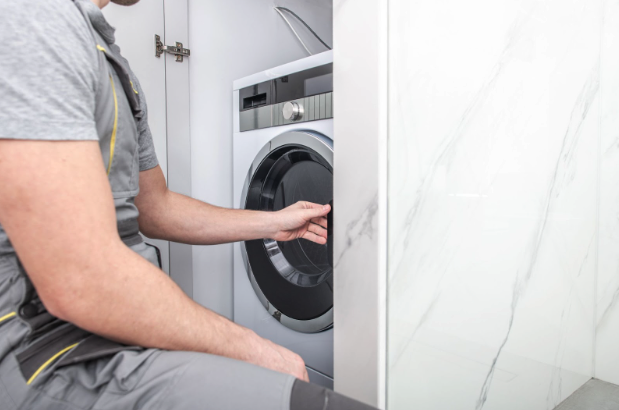 Types of Washing Machines We Take Sydney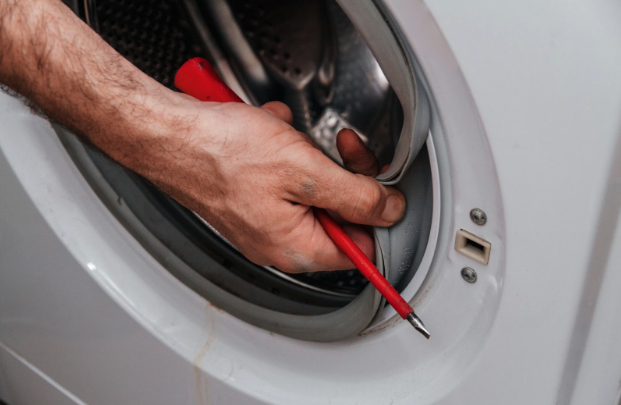 Washing machines come in various brands, types, capacities, and sizes. But regardless, Aussie Junk can take all sorts of appliances for you.
We can collect and dispose of any washing machines, including:
Clothes dryers

Tumble dryers

Hybrid washing/drying machines

Hand-cranked washing machines

Top loading washing machines

Front loading washing machines
Our rubbish removalists are highly reliable for any waste collection and disposal jobs. With our expertise, we can assure every client of safety, efficiency, and speed for washing machine removal. 
We at Aussie Junk are always here for you. Our company renders professional washing machine removal like no other. Let us deal with the tasks and be free from all the burdens!
Benefits of our Washing Machine Removal Sydney
For over a decade, we have helped all types of clients handle washing machine removal and other rubbish cleanups. With our long years in the service, we have become one of the waste removal experts you can rely on at any time.
We understand that rubbish removal is a physically demanding task. You must possess the skills, know-how, and tools to perform such jobs.
Fortunately, you've got Aussie Junk in Sydney to depend on for washing machine removal. We give the best benefits to all our clients with our top-quality service.
Fast and Affordable Washing Machine Removal

Exceptionally Trained Removalists Team

Lowest Washing Machine Removal Service Rates 

Discounts for Returning Clients

Efficient Collection, Recycling, and Disposal of Washing Machines

Free and No-obligation Estimates

On-time and Courteous Removalists
We guarantee to take all the unwanted appliances we can collect to the right facilities for proper recycling and disposal. Our company ensures public and environmental safety more than any other. Call Us For a Washing Machine Removal Now!
Aussie Junk works to meet all rubbish removal requirements across Sydney. Our washing machine removal brings you comfort and safety at a reasonable price.
Worry no more as we can take all your unwanted washing machines without delays. Once you call, our team can travel right away to where you are and deliver our professional washing machine removal service.
Call us at ‪0435 569 921 for bookings and a free service estimate.
Trusted by over 10,000 local families and business and since 2007.
A very trustful and professional company that conduct the job with efficiency, quality and honesty. I recommend to everyone who wish to have a positive experience when removing rubbish in any occasion.